Outreach & Engagement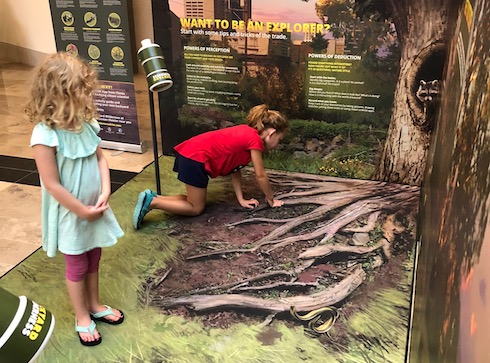 The Backyard Wilderness IMAX film anchors a library-focused national impact campaign designed to get children and their families outside and exploring. Participating libraries and science centers receive interactive physical installations, a suite of formal and informal educational materials, and training resources—all to help them create engaging ecosystem exploration programming for their communities.
More than 50 institutions around the country have participated in the campaign, which has reached hundreds of thousands of Americans with its tools for outdoor exploration. All materials created for the campaign are free, and most are available for download below.
INFORMAL EDUCATION MATERIALS
Family Activity Guides give families and library groups ideas for fun outdoor exploration and learning. The SEEK App, from the developers of the award-winning iNaturalist citizen science App, is a family-friendly nature scavenger hunt app that lets users earn badges for finding and photographing local flora and fauna. The app features cutting-edge Augmented Reality and Artificial Intelligence capabilities to identify finds and teach users how to best photograph them.
FORMAL EDUCATION MATERIALS
The Backyard Wilderness educational materials were created in partnership with the California Academy of Sciences' education department. They are tied to NGSS standards and engage students in grades 3-8 in fun, data-driven science investigation.
BIOBLITZ TRAINING MATERIALS
A bioblitz is a short, engaging outdoor event where people come together to explore their local ecosystems as citizen scientists. Bioblitzes build community spirit and observation skills, allow communities to raise awareness of regional plants and animals, and provide actual scientific data about local species for researchers. The Backyard Wilderness Bioblitz training materials and toolkit give libraries—or any other organization or individual—the tools they need to easily organize their very own bioblitz—a requirement for taking part in the Backyard Wilderness campaign.

For more information and to see if the Backyard Wilderness IMAX film is screening in your area, visit BACKYARDWILDERNESSFILM.COM.
"It made me realize I had a teaching tool right outside my front door."
___

CHEWELAH, WA