The Lucky Specials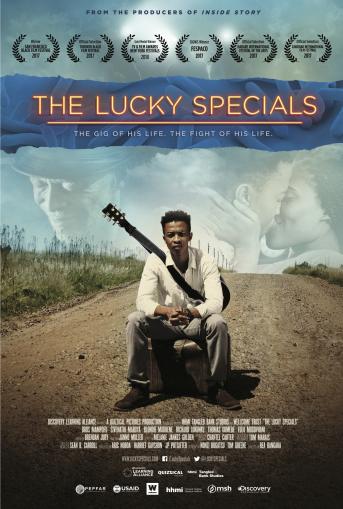 From the producers of the widely-acclaimed movie "Inside Story" comes a new feature-length film, THE LUCKY SPECIALS, a highly entertaining musical drama about a band's journey to create a new musical sound and catapult their small-time group to the big stage. THE LUCKY SPECIALS is set in South Africa and Mozambique, and using some of the most popular music from the region, the film weaves a dramatic storyline with important public health information about how to prevent and treat tuberculosis, one of the most prevalent infectious diseases in southern Africa.
The Lucky Specials are a cover band in a dusty town in southern Africa. Mandla [Oros Mampofu (Skeem Saam)] is a miner by day and plays lead guitar for The Lucky Specials by night. He dreams of making it big in the music industry. When tragedy strikes the band, Mandla and their friend Nkanyiso (Sivenathi Mabuya) struggle to hold everything together.
Produced by Discovery Learning Alliance and Quizzical Pictures in association with HHMI Tangled Bank Studios, with support from Wellcome Trust, Howard Hughes Medical Institute (HHMI), and USAID and PEPFAR through Management Sciences for Health (MSH), The Lucky Specials entertains millions around the world with its dynamic storyline, new brand of African music, and a unique look at tuberculosis.
LEARN MORE
READ LESS
"Not only will this movie entertain millions of people across the African continent, but it will also impart critical lifesaving information. Quite simply, this is a film everyone needs to see!"
Christopher Rowan, USAID
"One of the most beautiful stories…this year."
San Francisco Bay View
"'The Lucky Specials' is slated to entertain millions with its dynamic storyline, new brand of African music, and unique look at tuberculosis."
Channel24
CREDITS
A Discovery Learning Alliance and Quizzical Pictures Production in Association with HHMI Tangled Bank Studios and Wellcome Trust
PRODUCED BY
Aric Noboa, Harriet Gavshon, JP Potgieter
SCREENPLAY BY
Nonzi Bogatsu and Tim Greene
STORY BY
Lungelo Mdlalose and Tim Greene
CAST
Oros Mampofu as Mandla,
Sivenathi Mabuya as Nkanyiso,
Blondie Makhene as Bra Easy,
Richard Lukunku as Jose,
Thomas Gumede as Sello,
Fulu Mugovhani as Zwanga
TECHNICAL ADVISORS
Dr. Violent Chihota, Vama Jele,
Dr. Susan Maloney, Joseph Mthetwa,
Dr. Lindiwe Mvusi, Dr. Abel Nkolo,
Dr. Allison Russell, Dr. Jeffrey Safrit,
Dr. Adrie Steyn, Dr. Pedro Suarez,
Dr. Hloniphile Mabuza, Dr. Emmy Van der Grinten,
Tshidi Sopoli, Seleallea Marake,
Kent Benson, Melissa Gandanzara,
Zuzelle Pretorious, Alaine Nyuharira,
Donald Harbick, Paul Waibale,
Andy Omoluabi, Concilia Kunjeku